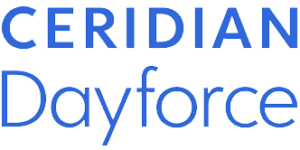 Dayforce is a comprehensive cloud platform that combines HR, payroll, benefits, workforce management, and talent management in a single application. The ClearCourse team has deep experience delivering Ceridian Dayforce implementations, upgrades, migrations and optimizations. With our unique blend of corporate and consulting experience, we deliver solutions guaranteed to save you money, reduce compliance exposure and increase efficiency.
Products We Support:
Ceridian Dayforce
Ceridian Managed Payroll
Ceridian Managed Benefits
Modules We Support:
Recruiting
Onboarding
Payroll
Benefits including

Open Enrollment/Life Event Configuration
PPACA

Workforce Management (WFM)
Compensation Management
Performance Management
Time and Attendance
Scheduling
Learning Management
Document Management
Dashboard
Succession Planning
Employee Engagement
Other Services Offered:
System Optimization
Case Management
Project Management
Strategy Review and Recommendations
Knowledge Transfer
Training for Staff
Gap Analysis
Role and Security Review
Entitlements (Time Off)
Employee and Manager Self Service
Reporting
Mobile Setup
Data Feeds and Integration
Scroll and click on an image to view featured Ceridian Dayforce Case Studies.
From Our Clients:
ClearCourse led us through a people-process-technology consolidation and standardization of 19,000 employees throughout the US and Canada. We went from 31 pay groups to 13; 5 work weeks to 2; 10 timekeeping and 5 payroll systems to ONE integrated system. Due to COVID-19, we had a completely virtual, remote go live. We couldn't have done it without ClearCourse. I'm beyond ecstatic with how well the implementation turned out!

Edgar HuertaCornerstone Building Brands

It has been an absolute pleasure to work with ClearCourse. Their knowledge of the Dayforce system and its capabilities made optimization of our organization's system more manageable than we imagined. Their HR expertise helped to guide us in the best ways to implement our policies and procedures. Kathryn's easygoing nature made even the most daunting tasks feel achievable, even creating videos we continue to share with new hires on how to use the system. Methodically going through each task and jumping in when emergencies arise, ClearCourse can be counted on to get to the bottom of any issue to make sure problems get solved. We have been able to get the most out of our Dayforce system and are still working toward better, faster and more intuitive workflows. Our employees are thrilled with the progress we have made, and now look forward to using the system more with every rollout.

Sara MoranNew York Philharmonic

ClearCourse stepped in when we lost a key member of our team during our Ceridian Dayforce Implementation. They were able to quickly (literally overnight!) get up to speed and get us back on track with benefits and converting employee data to meet tight deadlines. Their expertise and commitment to this project was invaluable, resulting in a successful, on-time implementation. We would not have been able to complete this project without their assistance. They are, by far, the best consulting group I have worked with.

Jillian CzlapinskiGrede Holdings

I had the pleasure of working with the ClearCourse team over several months. They provided comprehensive guidance and knowledge at every turn, without ClearCourse our transition and implementation would have resulted in an overspend of our time and budget. ClearCourse was not only able to keep our team on task, but also manage the Ceridian team, keeping us all on target to deliver on the required timeline. I would recommend ClearCourse for any Human Capital project requiring efficiency, effectiveness, and care. We would definitely hire ClearCourse for any of our HR consulting needs in the future.

Courtney A. MurthaLord + Taylor

The work ClearCourse did for us was worth its weight in gold! Major kudos, their detailed knowledge and analysis was extremely valuable. The ClearCourse team's support clearly made a difference in the success of our Dayforce implementation!

Susan WoodardCornerstone Building Brands

ClearCourse was able to provide a ray of sunshine to an otherwise bleak experience in our first year of payroll management. By mid-year, we had accumulated several dozen problems that were reflecting badly on my company's ability to execute. ClearCourse came in, triaged the situation, and immediately dug in to begin solving many of our problems. They did so by reconfiguring the payroll system, fixing interfaces, reprogramming entitlements, and staying resolutely determined to eliminating ticketed items. I highly recommend ClearCourse to any company looking to implement a payroll system or fix existing problems.

Brian DavenportPark Hotels & Resorts

ClearCourse was professional, delivered on time, listened to our needs and created solutions. They delivered what they promised and stayed on budget. Stephanie was able to resolve issues with extracts that Ceridian support had not been able to complete in months of work.

Jennifer KozelekATI Physical Therapy

ClearCourse was an absolute savior for us in Canada and amazing to work with through this transition. The Canadian team relied on ClearCourse a lot, they helped us through this transition with such positivity and enthusiasm.

Jennifer Horrocks, CHRLCornerstone Building Brands